R-Store Does It Right
No Monthly Cost
Monthly Expense Breakdown
Security
Restrictions for Different Cards
Odometer Entry
Vehicle or Drive Entry
Volume Discounts
Locations Throughout North Central Wisconsin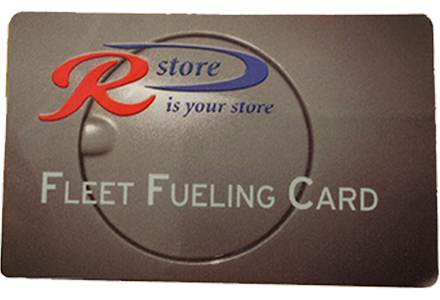 The R-Store Fleet Fueling Card
Convenience Has Its Rewards
Detailed billing of your purchases is available with the R-Store Fleet Fueling card. A breakdown of your fleet expenses will allow you to manage your business more efficiently by monitoring fuel costs. Additionally, a competitive fuel discount is available to customers based upon the volume of fuel purchased each month. Call for details.
It's The Free and Easy Card
There is no monthly cost associated with the R-Store Fleet Fueling card. Reports breaking down your monthly expenses by driver or vehicle are also free. Just like any card it's easy to use, and at some of our locations pay-at-the-pump capability is also available.
Secure Way to Manage Your Expenses
Restrictions can be placed on the card limiting purchases to just fuel, or even certain grades of fuel. Personal Identification Numbers (PIN) can also be assigned to the cards offering yet another level of security. An odometer prompt can also be requested along with a request for a driver or vehicle number. The card offers a range of options from no restrictions, to heavily restricted. It's up to you the customer to determine how the card should be used.